Подача статей





Gaak T.P., Konnova S.M.
REASONINGS ON SPIRITUALITY: PEDAGOGICAL ASPECT
Spirituality in pedagogical aspect is investigated. The essential moments of spirituality — dialogue, responsibility and care are found out. The definition of spirituality taking into consideration features of pedagogical activity is offered. The spirituality vital issue — a semantic lacuna is established.
Key words:
spirituality, image of the first ancestor.
References:
1. Psell, M. To one same pupil // Memorials of the Byzantine literature IX–XIV century. — М., 1969. — P. 151–154.
2. Konnova, S.M. The Will`s Idea and education // Culture, art and education of the country Russia in the context of the history. Materials оf the Russian science-practical conference (Оrenburg, 25–27 april 2007). — Оrenburg, 2007. — P. 353–362.
3. Kagan, M.S. Philosophy of the culture as the theoretical subject // Philosophy of culture. Standing and development. — SPb: Deer, 1998. — P. 3–15.
4. Shpengler, O. Europe`s Decline. — Rostov-on-Don: Feniks,1998. — 640 p.
5. Zshukovsky, V.A. Not expression // Life and poetry — one the same. Poems. — Moscow: Moscow worker, 1987. — P. 128–129.
6. Lomonosov, M.V. The God move from mouth; I will prophesy with him // Life and poetry — one the same. Poems. — Moscow: Moscow worker, 1987. — P. 24.
7. The Saint Ioann, the abbat on the Sinai mountain. The Ladder. — Moscow: Moscow yard of the Saint-Trinity Sergey`s Lavra, 2004. — 444 p.
8. Gessen, S.I. The principles of pedagogics. The Introduction in applied philosophy. — Berlin: Word, 1923. — 667 p.
About this article
Authors:

Gaak T.P., Konnova S.M.



Year:

2012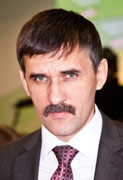 Editor-in-chief
Sergey Aleksandrovich
MIROSHNIKOV