Подача статей





Lukyanow A.V., Zhiguleva I.G.
THE SPIRITUAL ENJOYMENT OF BEAUTY AS TRANSCENDENTAL VALUE: ONTOLOGIC AND GNOSEOLOGICAL ASPECTS
This article is devoted to complex review of intrinsic strength of a person: love, spiritual suffering and moral feelings concerning beauty and its spiritual prospects.
Key words:
spiritual pleasure, social and spiritual values, common humanity, value, and personality.
References:
1. Stepin V.S., Kuznetsova L.F. Scientific world in the culture of technological civilization. — M., 1994. — Р. 4.
2. Bohr, N. The Unity of Knowledge // Selected research papers. — M., 1971. — V. 1. — Р. 95.
3. Hegel, G.W.F. System Sciences. Part one. Phenomenology of Spirit / Per. G. Shpet. — St. Petersburg: "Science", 1992.
4.Baeva, L.V. Value foundations of individual and social life: the experience of existential axiology // Prospects of philosophical thought in the South of Russia. — Rostov-on-Don: By SKNTS HS, 2002. — Р. 35.
About this article
Authors:

Lukyanov A.V., Zhiguleva I.G.



Year:

2012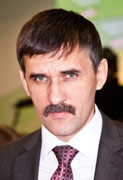 Editor-in-chief
Sergey Aleksandrovich
MIROSHNIKOV