Подача статей





Bedrikov L.S.
SCIENTIFIC KNOWLEDGE AND ZEN BUDDHISM: NEW ASPECTS OF EPISTEMOLOGY
For scientific knowledge XX–XXI cc. extraordinarily fruitful ideas of Zen Buddhism, with its original practice and methods of cognition. Studies of "contacts" of science and Zen Buddhism in the area of epistemology is not so often the subject of a separate study, which necessitates further research. Currently, there is a pressing need for improved methods of scientific knowledge on the basis of a synthesis with other areas of knowledge.
Key words:
scientific knowledge, Buddhism, Buddhist categories, Zen Buddhism, quantum physics, causality of phenomena, the doctrine of instantaneous, the idea of the multiverse, the methodology of cognition.
References:
1. The Book of Buddhas: [anthology] / [comp., intro. art., comments. A. Galata]. — St.: Amphora, TID Amfora, 2009.
2. Ricard Matthieu and Trinh Xuan Thuan. The Quantum and the Lotus: A Journey to Frontiers Where Science and Buddhism Meet. New York: Three Rivers Press, 2004. — Access mode: http://buddhism.ru/buddhru/bru5/kv.php;
3. Tsherbatskoy, F.I. Selected works on Buddhism. — Moscow: Nauka, 1988.
4. Rosenberg, O.O. Works on Buddhism. — M., 1994 [Еlectronic resource]. — Access mode: http://psylib.org.ua/books/rozeo02/txt11.htm;
5. Linde, A.D. The Many Faces of the Universe [Еlectronic resource]. — Access mode: http://elementy.ru/lib/430484;
6. Vasubandhu. Abhidharmakosha, Sec. 3, 4 // Encyclopedia of Abhidharma. The doctrine of the world, the doctrine of karma / Ed. with Skt., type., comments.: V. Rudoy, E. Ostrovskaya. — M.: Ladomir, 2001.
7. Radhakrishnan S. Indian Philosophy, vol. I. L., 1927 (М., 1956) [Electronic resource] — Access mode: http://psylib.org.ua/books/radha01/txt07.htm#20;
8. Heisenberg W. Physics and Philosophy. — Moscow: Nauka, 1989 [Electronic resource]. — Access mode: http://philosophy.allru.net/perv347.html.
About this article
Author:

Bedrikov L.S.



Year:

2012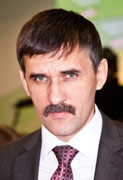 Editor-in-chief
Sergey Aleksandrovich
MIROSHNIKOV