Подача статей





Egorova J.V.
HOUSEHOLD ASPECT OF LIFE OF THE URAL WOMAN-KAZACHKI (MORAL WAY, FAMILY RELATIONS, TRADITIONS, WAY OF LIFE AND OTHER COMPONENTS)
In article the various parties of home life of the woman-kazachki are considered. The author marks the numerous traditions of wedding ceremonies connected with a choice of the bride, the groom; specifies in the status of the woman-kazachki after marriage. The author mentions problems of mutual relations of spouses, and also shows the attitude of Cossacks to carrying out of various holidays.
Key words:
Key words and phrases: Cossack, a family, wedding, traditions, the bride, the groom, a holiday.
References:
1. Abramovsky А., Kobzov В., Kuznetsov В. — Through a prism of centuries: From last Orenburg Cossacks / A.Abramovsky, V.Kobzov, V.Kuznetsov. — Foreheads-to: Cheljab.gos.un., 2002. — 203 p.
2. State Archive of the Orenburg region (SАОR).F.9.Оp.1.D.17.L.8.
3. Dubovikov A.M. Daily culture of the Ural Cossacks (XVI-XIX centuries) /A. M. Dubovikov // Journal of OSU. — 2008. — №10 (92). — P.44-49.
4. Kapustina V. Heroines of the lost world. / V.Kapustina // Gostini Dvor. — 2008. — №22. — P.132-140.
5. Korenjugina I. To the Cossack sort isn't present to transfer. / I.Korenjugina // Museum. — 2008. — №8. — P.97-100.6. Kuznetsov A.P. Ethnographic Essays: the Scientific literary and publicistic heritage. On materials of archives and periodicals. (XIX-XX centuries). — Kaluga: Gold avenue, 2007. — 352 p., ill.
7. Pallas P.S. Journey in various provinces of the Russian Empire. / Featured chapters/. — Uralsk, 2006.-272p.
8. Starikov F.M. HIstoriсal and Statistical Sketch of Orenburg Cossack army. With an article about a homelife of the Orenburg Cossacks, with banners and graphics cards / F.M.Starikov. — Orenburg: B.Breslina's Printing house, 1891. — 250 p.
9. Stupak I. No pain sore — I Cossak! / I. Stupak // Native land. — 2004. — №5. — P.122-124.
10. Tereshchenko A.V. Cultural History of Russian people / A.V.Tereshchenko. — Moscow: PenguinBooks, 2007. — 730 p.: ill.
11. Trut V.P. Military Encyclopedia of the Cossacks / V.P.Trut, G.Kurkov. — Мoscow: Yauzа: Penguinbooks, 2009. — 704 p.
About this article
Author:

Egorova Yu.V.



Year:

2012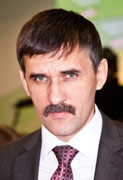 Editor-in-chief
Sergey Aleksandrovich
MIROSHNIKOV