Подача статей





Tuyakova Z.S.
DEPRECIATION POLICY AS A STRATEGY FOR THE DEVELOPMENT OF INDUSTRIAL ENTERPRISES
The article deals with effective depreciation policy in economic entities on the basis of systematizing its principles and the development of a set of activities to comply with those principles the implementation of which is essential to the development of the economy of industrial enterprises.
Key words:
depreciation, the concept of depreciation, depreciation methods, policy, economic and social efficiency, industrial enterprise, long-term capital, moral and physical wear and tear, technological advances, the useful life of a development strategy.
References:
1. Tax Code of the Russian Federation: Part One and Two (incomp. On January 25, 2007). — M. Yurait Izdat, 2006. — 584s. — (Law Library).
2. Statement of accounting, "Fixed assets accounting" PBU 6/01
3. Statement of accounting, "Intangible assets accounting" PBU 14/2007.
4. Gaponenko, A. L. Moral depreciation and updating tools. — M.: Thought, 1980.
5. Kovalev, V. V., Kovalev Vit. B. Accounting, analysis and financial management. — Moscow: Finances and Statistics, 2006. — 688p.
6. Anthony R. Ris. Dzh. Accounting: situations and examples: Trans. from Engl. / Ed. with foreword A.M. Petrachkova. — 2 — ed. Stereotype. — Moscow: Finances and Statistics, 1996. — 560p. Ill. — (Series on Accounting and Auditing).
About this article
Author:

Tuyakova Z.S.



Year:

2012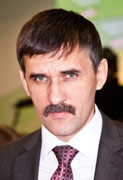 Editor-in-chief
Sergey Aleksandrovich
MIROSHNIKOV