Подача статей





Tjapuhin A.P., Aralbaeva F.Z.
SPHERES OF AUDIT OF SUBSYSTEMS AND BUSINESS PROCESSES IN SUPPLY CHAINS
In article the logistical chain essence as object of management is disclosed, the list of business processes and managerial subsystems in chains of supply is specified, the purpose, problems and spheres of audit of subsystems and business processes of the enterprises forming logistical chains are determined
Key words:
logistical chain, audit of business processes, management, enterprise structure
References:
1. Anikin B. Commercial logistics / B.A. Anikin, A.P. Tjapuhin. — М: Prospect, Velbi, 2005. — 432 p.
2. Cooper M.C., Lambert D.M. and Pagh J.D. Supply Chain Management: More Then a New Name for Logistics // The International Journal of Logistics Management. — Vol.8, No.1. — P. 1–14.
3. Tjapuhin, A.P. Theoretical precondition of business processes formation in value chains / A.P. Tjapuhin, S.A. Dolbina // The Bulletin of the Moscow state regional university, Series "Economy", section II "Problems of economy and management of a national economy". — М.: МGOU, 2011. — P. 25–34.
4. Tjapuhin, A.P. Industrial management / A.P. Tjapuhin. — SPb.: GIORD, 2008. — 384 p.
5. Deming, W.E. Out of the Crisis. — Cambridge, MA 02139: MIT Press.
6. Liker, J.K. The Toyota way: 14 Management principles from the world's greatest manufacturer. — New York: McGraw-Hill.
7. Introduction of the balanced indicators system. — М.: Alpina Business Books, 2005. — 478 p.
About this article
Authors:

Tyapuhin A.P., Aralbaeva F.Z.



Year:

2011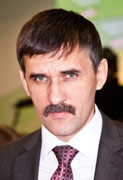 Editor-in-chief
Sergey Aleksandrovich
MIROSHNIKOV