Подача статей





Zelentsov D.G.
MULTIDIMENSIONAL CLASSIFICATION OF ADMINISTRATIVE-TERRITORIAL FORMATIONS OF REGION BY INDICATORS OF DEVELOPMENT OF BUILDING
It is defined, importance of differentiation of administrative-territorial formations of the Orenburg region on indicators of development of building. It is allocated five classes differing with a level of development of building for which allocation for the purpose of reception of steadier splitting have used an iterative method кластерного the analysis. Construction of an integrated indicator has allowed to present the information on building development in the Orenburg region in the most compact and more convenient form, than representation of results кластерного the analysis.
Key words:
claster analysis, housing construction, differentiations of administrative-territorial formations.
References:
1. Bolshakov A.A., Karimov R.N. Methods of processing of the multidimensional given and time numbers. — М.: the Hot line-TV set, 2007. — 504 р.
2. Renner, A.G. Мathematical methods of modeling of social and economic processes (regional aspect) / A.G. Renner [etc.]. — Samara: Publishing house SamNtS of the Russian Academy of Sciences, 2008. — 182 р.
3. Borg I.P., Groenen J.F. Modern Multidimensional scaling: Theory and Applications. 2nd ed. — Springer, New York, NY, 2005. — 614 p.
4. Cox T.F., Cox M.A.A. Multidimensional Scaling. — Chapman AND Hall/CRC, 2000. — 328 p.
About this article
Author:

Zelentsov D.G.



Year:

2011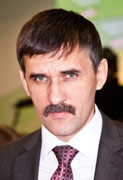 Editor-in-chief
Sergey Aleksandrovich
MIROSHNIKOV