Подача статей





Borisyuk N.K.
RESTRUCTURING OF THE ENTERPRISES: THE THEORY AND PRACTICE
In article questions of the theory and the practical decision aboutblem restructurings of the enterprises are considered, carrying out stages restrukturizatsii are defined.
Key words:
re-structuring, the unprofitable enterprises, having collectedshaja debts, attraction of investments.
References:
1. Astrahantseva, I.A. Financial re-structuring insolvent enterprises as strategija improvements in the course of anti-recessionary management. — М.: FINEKO, 2002. — 117 p.
2. Bogomolova, A.V. Antirecessionary economy regulation. The theory and practice. — М.: JUNI e — it is given, 2003. — 271 p.
3. Economic and social situation of the Orenburg region in 2010: the Item sb. / Territo-rialnyj body of Federal Agency of the state statistics across the Orenburg region. — Orenburg, 2011. — 185 p.
4. Management of the organization / Under the editorship of A.G. Porshneva, Z.P. Rumjantsevoj, N.A. Solomatina. — 2 edition. — М.: INFRA TH, 2000. — 669 p.
About this article
Author:

Borisyuk N.K.



Year:

2011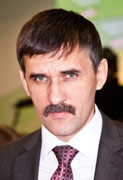 Editor-in-chief
Sergey Aleksandrovich
MIROSHNIKOV