Подача статей





Aralbaeva G.G., Afanasjev V.N.
FORECASTING OF STRUCTURAL SHIFTS IN A BRANCH STRUCTURE OF ECONOMY OF THE ORENBURG REGION ON THE BASIS OF SYSTEM OF EKONOMETRIC EQUATIONS
The article is devoted to the forecasting of structural changes and shifts in a branch structure of gross regional product by kinds of economic activities in the Orenburg region. The positive tendency of the change of the gross product in favor of hi-tech branches and sphere of services is characteristic for the states with the developed economy.
Key words:
branch structure of gross regional product, structural shifts, forecasting, system of econometric equations.
References:
1. Fiapshev, A.B. The role of territorially — branch proportions in modernization and maintenance of a stable development of national economy / A.B. Fiapshev, T.Kh. Sozaeva, A.Yu. Kaygermazova // Regional economy: theory and practice. — 2010. — №6. — Р. 2–8.
2. Abramova, O.A. State role in the economic development of the country / O.A. Abramova // Forming of market economy: theory and practice: composite book of scientific articles / under redaction M.G. Lapaeva. — Orenburg: OSU, 2008. — Р. 10–14.
3. Malceva, I.G. The analysis The analysis of structure of economy and budgetary system of Moscow and capitals of the largest European states(London, Paris, Berlin) / I.G. Malceva // Statistics questions. — 2009. — №10. — Р. 50–58.
4. Novichkov, A.V. Methods of forecasting of gross domestic product's dynamics / A.V. Novichkov // Problems of forecasting. — 2007. — №3. — Р. 154–158.
5. Plishevskiy, B.P. Economy of CIS countries in the index SNS / / Statistics questions. — 2003. — №4. — Р. 3–10.
6. Statistics [Text]: the textbook / under the editorship of A.E.Surinova. — М.: РАГС, 2005. — 656 p.
7. The Russian statistical year-book. 2010 / Rosstat. — М., 2010. — 806 p.
8. Kozina, L.F. Problems of social-economical forecasting / L.F. Kozina, L.S. Zelencova // Social- economical development of Orenburg: results, problems, prospects: materials of science-practical conference devoted to 260 years Orenburg // under redaction V.V. Bondarenko; Orenburg Administration; OSU. — Orenburg: OSU, 2003. — Р. 221–224.
About this article
Authors:

Afanasyev V.N., Aralbaeva G.G.



Year:

2011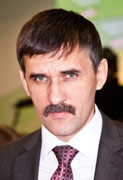 Editor-in-chief
Sergey Aleksandrovich
MIROSHNIKOV