Подача статей





Kameneva I.N.
THE INDICATION OF OLD FORESTS BY WOOD DESTROYING FUNGI IN THE ORENBURG REGION
In paper the perspectives of using of wood-destroying fungi for a purpose of evaluating of Orenburg region forest ecosystems degradation level are discussed. Species which can be counted as indicators of old forest marked.
Key words:
wood-destroying fungi, bioindication, old forests, Orenburg region.
References:
1. Isaeva L.G. Wood-destroying fungi // Dispersed elements in boreal forests. М.: Nauka, 2004. P.224-259
2. Мukhin V.A. Biota of xylotrophic basidiomycetes of West-Siberian plane. — Еkaterinburg: Publ.House "Nauka", 1993. — 231 p.
3. Storozenko V.G., Bondartseva M.A., Soloviev V.A., Krutov V.I. Scientific base of woods resilence to wood destroying fungi. М.: Nauka, 1992. 221 p.
4. Safonov M.A. Structure of xylotrophic fungi communities. Еkaterinburg: Ural branch of RAS, 2003а. 269 p.
5. Safonov M.A. Rare species of fungi of the Orenburg region: problems of revelation, studying and protection. — Оrenburg: OSPU Publ. House, 2003. — 100 p.
6. Ushakova N.V. Fungi — indicators of base dark coniferous forests of Ural //Ecology of processes of wood biological degradation. Еkaterinburg: "Ekaterinburg" Publ. House, 2000. P.6-15.
7. Kotiranta H., Niemelд T. Uhanalaiset kддvдt Suomessa. Toinen, uudistettu painos. Helsinki, 1996. 184 p.
About this article
Author:

Kameneva I.N.



Year:

2011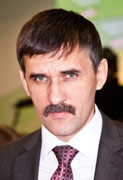 Editor-in-chief
Sergey Aleksandrovich
MIROSHNIKOV