Подача статей





Rogachev K.I.
THE INFLUENCE OF THE SEPARATE ELEMENTS OF CORPORATE ADMINISTRATION ON THE COST OF COMPANY
The author examined the results of investigating the influence of the separate elements of corporate administration on the cost of company from the point of view of the institutional economy and corporate finances.
Key words:
corporate administration, the cost of company, the asymmetry of information.
References:
1. Morck R., Schleifer A., Vishny R. Management ownership ana market valuation: аn empirical analysis // Journal of Financial Economies, 20 (1988), pp. 293–316.
2. McConnell J., Servaes H. Additional evidence on equity ownership and corporate value // Journal of Financial Economies, 27 (1990), pp. 595–612.
3. Himmelberg C., Hubbard G., Palia D. Understanding the determinants of managerial ownership and the link between ownership and performance // Journal of Financial Economies, 53 (1999), pp. 353–384.
4. Hermalin B., Weisbach M. Endogenity chosen boards of directors and their monitoring of the CEO // American Economic Review, 88 (1998), pp. 96-118.
5. Hermalin B., Weisbach M. The effects of board composition and direct incentives on firm performance // Financial Management, 20, Winter (1991), pp. 101-112.
6. Klein A. Firm performance and committee structure // Journal of Law and Economies, 41 (1998), pp. 275 -303.
7. Bhagat S., Black B. The non-correlation between board independence and long — term Firm Performance // Journal of Corporate Law, 27 (2002), pp. 231-273.
8. Lang Mark H., Lins K., Miller Darius P. ADRs, analysts and accuracy: Does cross listing in the U.S. improve a firm's information environment and increase market value // Journal of Accounting Recearch, 41 (2003), pp. 317-345.
9. Doidge C., Karolyi A., Stulz R. Why are foreign firms listed in the U.S. worth more? // Journal of Financial, Economies 71 (2004), pp. 205–238.
About this article
Author:

Rogachev K.I.



Year:

2011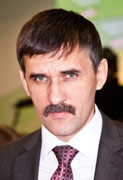 Editor-in-chief
Sergey Aleksandrovich
MIROSHNIKOV