Подача статей





Osokina N.V., Vaneyeva T.V.
THE INFLUENCE OF INTERNATIONAL BANK BUSINESS ON THE ECONOMY OF THE COUNTRIES WITH THE DEVELOPING MARKETS UNDER THE CONDITIONS OF FINANCIAL GLOBALIZATION
The authors gave the definition of the essence of financial globalization as the new state of world economy, the characteristic features of transnational banks and their role in the development of financial globalization. Purposes and mechanisms of the effect of foreign bank capital on the national banking systems of the countries with the developing markets are examined.
Key words:
financial globalization, transnational banks, international bank business.
References:
1. Vovchenko NG, Efremenko, MN, Gorbachev, OA The influence of financial globalization on the transformation of the banking system in Russia / / Banking. — 2009. — № 12. — S. 46.
2. Davydov VM, Bobrovnikov A., Teperman VA The phenomenon of financial globalization. Generic processes
and the reaction of Latin American countries. — M., 2000.
3. Osokina NV On the basis of theoretical analysis of the features of the present stage of world economy / / Russia in the context of the realities of the global economy: Sat. scientific. tr. Vol. 2/Kuzbass. Gos. tech. Univ. — Kemerovo, 2006.
4. Papiryan GA Economics and management of the banking sector (international dimension). Moscow: Economics, 2004.
5. Soros D. The bubble of American supremacy. What should be sent to American power / Trans. from English. — Moscow: Alpina Business Books, 2004.
6. J. Soros on globalization / Trans. from English. Bashkirov. — Moscow: Publishing House of Penguin Books, 2004.
About this article
Authors:

Vaneeva T.V., Osokina N.V.



Year:

2011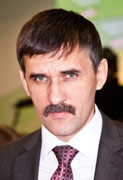 Editor-in-chief
Sergey Aleksandrovich
MIROSHNIKOV