Подача статей





Nikulina Yu.N.
PROFESSIONAL PREPAREDNESS OF THE YOUNG SPECIALISTS: THE VIEW OF THE GRADUATES OF VUZ (INSTITUTE OF HIGHER EDUCATION) AND EMPLOYERS
The basis of this article is the materials of marketing studies of graduates and enterprise-employers, connected with the estimation of the level of the professional preparedness of young specialists. They are proposed to recommendation regarding an increase in the competitive ability of the graduates of Orenburg state university on the contemporary labor market and to development of partner relations with the enterprises-employers.
Key words:
professional preparedness, the contemporary labor market, the key scopes of young specialists, demand of employers, the competitive ability of the graduates.
References:
1. Kutejnitsyna T.G. Vocational training and a labor market: efficiency of interaction//the Person and work. 2009. №6. — P. 53–56.
2. Pokushalova L.V. the Problem of quality of preparation of the modern expert//the Young scientist. 2011. — №2. Т.2. — P. 107-109.
3. Субетто A.I.estimated of means and technologies of certification of quality of preparation of experts in high schools: methodology, a technique, practice: the monography. SPB. TH.: the research center of problems of quality of preparation of experts, 2004. 280 P.
4. The analytical report according to marketing researches of consumers of educational services (entrants, graduates, young experts) and the enterprises — of employers for 2009-2010 educational year / Orenburg гос. Un y. — Orenburg: OGU, 2010.114 P.
About this article
Author:

Nikulina Yu.N.



Year:

2011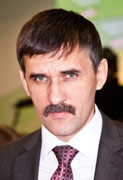 Editor-in-chief
Sergey Aleksandrovich
MIROSHNIKOV