Подача статей





Dubrovina N.A., Tatarskikh B.Ya.
ON SYSTEM TRENDS IN ORGANIZATIONAL-TECHNOLOGICAL DEVELOPMENT OF RUSSIAN MACHINE BUILDING: MODERNIZATION ASPECT
The represented article examines basic trends in organizational-technological development of machine building in Russia. Analysis showed that according to the qualitative technical and economic characteristics machine building in Russia has significant delay from machine building of basic industrially developed countries. It seems that a change in the situation is possible only with raising the technical-organizational level of production potential on the basis of the introduction of achievements of scientific-technological progress and formation of development strategy of domestic machine building as the bases of the modernization potential of entire industrial sector of economy of the Russian Federation.
Key words:
machine building, innovation, investment, material and technical base, industrial-technological potential.
References:
1. Gorcharov V. N, Gorovaja O. A. The organization of innovative activity of the enterprises of machine-building branch // the Organizer of manufacture, 2006 — №3 — p. 58-61.
2. Ivanter V. V, Uzjakov M. N. The long-term planning of Russian economy development for 2007-2030 (by variants)// the Planning Problems, 2007. — №6. — p. 3-46.
3. Makhutov N., Moskvitin A. Prioritety of mechanical engineering // the Economist, 2005. — №5. — p. 26-34.
4. Novikov S.A., Tatarskih B. J. Organizational-economic reserves of decrease in electrocapacity of production of mechanical engineering: the Monography. — Samara: Publishing house SSC of the Russian Academy of Sciences, 2010. -212 p.
5. Tatarskih B.J. The basic tendencies of dynamics of the structure of industrial-technological potential of mechanical engineering of Russia. — Samara: The Samara state economic university, 2005. — 36 p.
6. http://www.gks.ru/
7. http://www.minprom.gov.ru/
About this article
Authors:

Tatarskih B.Ya., Dubrovina N.A.



Year:

2011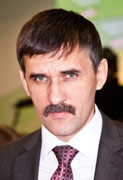 Editor-in-chief
Sergey Aleksandrovich
MIROSHNIKOV