Подача статей





Aralbayeva F.Z., Kuzayeva T.V.
THE ORGANIZATIONAL MODEL OF THE FORMATION OF REGIONAL INNOVATION SUBSYSTEM
The authors represented the organizational model of interaction of different administrative structures of region, which are the structural element of control of innovation subsystem in the regional social and economic system. The innovation infrastructure of region, which ensures the balanced innovation development, is formed with the help of this model.
Key words:
the mechanism of control, organizational model, innovation infrastructure, innovation development, innovation activity, innovation subsystem, regional social and economic system.
References:
1. Goncharov, V.V. New progressive forms of organisation in industry / V.V. Goncharov. — M.: MSRIIM, 2004. — 176 p.
2. Kulman, A. Economic Mechanisms: trans. from French by N.I. Khrustaleva. — M.: Progress: Univers, 1993. — 192 p.
3. Zelentsova, L.S. The mechanism of industrial management development: monograph. M.: SAU, 1993. — 130 p.
4. Omarov, A.M. Social management: some theoretical and practical questions / A.M. Omarov. — M.: Misl, 1980. — 272 p.
5. Kistanov, V.V. Regional economy of Russia / V.V. Kistanov, N.V. Kopilov. — M.: Finansi i statistica, 2006. — 584 p.
6. Pravdin, D.I. Problems of managing economic and social processes under Socialism / D.I. Pravdin. — M.: Misl, 1979. — 107 p.
7. Tikhomirov, U.A. Law and social management in developed social society: lecture / U.A. Tikhomirov. M.: Misl, 1978. — 64 p.
About this article
Authors:

Aralbaeva F.Z., Kuzaeva T.V.



Year:

2011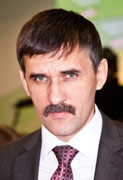 Editor-in-chief
Sergey Aleksandrovich
MIROSHNIKOV