Подача статей





Gurieva V.A.
EFFECT OF ALUMINA-MAGNESIA RAW ON FORMATION OF BUILDING CERAMICS PROPERTIES
According to the research it is found that heat treatment of high-magnesia silicate man-made materials is accompanied with complex processes of change in phase composition and structure, which determine the formation of a complex of necessary properties of ceramic products.
Key words:
building ceramics, man-made magnesia raw materials, mineral composition, burning, structure, phase transformations.
References:
1. The Explanatory note to a survey card (map) of deposits of building materials of the Orenburg area / under ред. A.I.Lisitsyna [etc.]. — M.: The Uniongeolfund, 1988. — 449 P.
2. Guryeva, V.A. Physical and chemical of research of use dunits in decorative — finishing ceramics / V.A.Guryeva. — Orenburg: IPK GOU OGU, 2007. — 129 P.
3. Ivanova, V.P. Thermal the analysis of minerals and rocks / V.P. Ivanova [etc.]. — L.: Bowels, 1974. — 399 P.
4. Тоrоpоv, N.A. Diagram of a condition of silicate systems / N.A. Toropov. — L.: The Science, 1972. — 447 P.
About this article
Author:

Guryeva V.A.



Year:

2011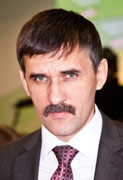 Editor-in-chief
Sergey Aleksandrovich
MIROSHNIKOV