Подача статей





Mikhailov A.N., Mikhailov S.N.
EVALUATION OF ALUMINUM ACCUMULATION OF BOYS AND GIRLS AS AN INDICATOR OF EXPOSURE OF CHEMICAL ENVIRONMENT FACTORS
The paper assessed the accumulation of aluminum in biological media of boys and girls under the influence of chemical factors of the production environment of copper-smelting company.
Key words:
aluminum, boys and girls, copper-smelting plant.
References:
1. Avaliani SL Theoretical and methodological based hygienic assessment of the actual load effects of chemical environmental factors on the body: Author. diss ... dokt.med.nauk. — M., 1995. — 42.
2. Avtsyn AP, Lark, AA, Rish MA, Strochkova LS Microelementoz rights. — M., Medicine, 1991 .- 496 sec.
3. Voronin VM Carcinogenic substances in the environment (review). / / Hygiene and Sanitation. — 1993 .- № 9. — S. 51-57.
4. Gildenskiold RS, Novikov YV, Khamidulin RS and other heavy metals in the environment and their effect on the organism (review) / / Hygiene and Sanitation. — № 5-6. — P.6-9.
5. Dautov FF, Galliamova AB, Khakimova R., Kamalov SR Qualitative and quantitative characteristics of air pollution of industrial cities. / / Hygiene and Sanitation. — 1990. — № 6. — P.10-12.
6. IJ Kon, M. Kopytko, JP Aleshko — Ozhevsky, LV Shevlyakova, N. Macha, M. Steps, AK Baturin study security zinc, copper and selenium in Moscow preschool children / / Hygiene and Sanitation, № 1, 2001, p. 51
About this article
Authors:

Mihaylov A.N., Mihaylov S.N.



Year:

2011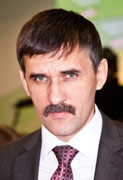 Editor-in-chief
Sergey Aleksandrovich
MIROSHNIKOV