Подача статей





Kolesnik A.N., Mustafina D.R.
DEFINING QUALITY OF GROUP CONDITIONING POLLUTION OF ATMOSPHERE BY DIVISIONS NOSTA
For definition qualitative group conditioning pollution of atmosphere by divisions NOSTA on an initial matrix of research study was conducted factor analysis. Factor analysis has given associations of parameters of research under four factors. According to the factor analysis the parameters which have united in one factor, have one nature of behavior. That is all parameters of pollution the atmospheres which have got to one factor, are caused by the ejections of divisions NOSTA which have got to this factor.
Key words:
factor analysis, the basic parameter, the group conditionality.
References:
1. D. Bendat J., Piersol A. Measurement and analysis of random processes. — M.: Mir, 1974.
2. Drayper N., Smith H. Applied regression analysis. — Moscow: Statistics, 1973.
3. Brandon D. B. Developing Mathematical Models for Computer Control, USA Journal, 1959, VS, N7.
4. Harman G. Modern factor analysis. — M.: Satistika, 1972.
5. Iberl C. Factor analysis .– M.: Statistics, 1980.
6. Lawley D.M. The estimation of factor loadings by the method of maximum likelihood. Proc. roy. Soc. Edinb. Abo. 64-82 (1940).
7. Kaiser H. F. [1]. The varimax criterio for analytic rotation in factor analysis. Psychometrica, 23, 187-200 (1958).
About this article
Authors:

Kolesnik A.N., Mustafina D.R.



Year:

2011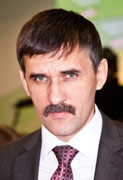 Editor-in-chief
Sergey Aleksandrovich
MIROSHNIKOV