Подача статей





Shaikhetdinov R.G.
SANITARY VECTOR OF GENERAL ATHLETIC EDUCATION OF STUDENTS
Summary: There is an algorithm of realization of the students common physical education which provides formation of a healthy way of life. Success of realization of this algorithm is in activity, intellectualization, independence, individualization and personification of the students during the educational process.
Key words:
common physical education, improving orientation.
References:
1. Balsevich, V.K. Ontokineziologiya Rights: Monograph / V.K. Balsevich — M.: Theory and practice of physical culture. — 2000. — 275p.
2. Vorotilkina, I.M. Pedagogical system of autonomy in the motor activity of children and youth: summary of the dis. Dr. Ped. Science /1. V. Vorotilkina. — Omsk, 2007. — 42p.
3. Zimnyaya, LA. Educational Psychology: A Textbook for Universities / I.A. Zimnyaya. — M.: Logos, 2000. — 384p.
4. Zinoviev, S.I. The educational process in the Soviet higher school / S.I. Zinoviev. — M.: Higher School, 1975. — 357p.
5. Kulikov, L.M. Motor activity and the health of the younger generation: the monograph / L.M. Kulikov, V.V. Rybakov, S.A. Yarushin. -Chelyabinsk: Izd Chelyab. state. Press, 2009. — 91 p.
6. Matveev, A.P. The problem of the content of education in physical culture in the context of the requirements of the standard second-generation / A.P. Matveev, Y.I. Razinov: Theory and Practice of Physical Culture. — 2009. — №6. — S. 53-57p.
7. Nizamov, R.A. Teaching through increased educational activity of students / R.A. Nizamov. — Kazan: Publishing House of Kazan University, 1975. -302p.
8. Tisso, S.-A. The health of learned men / S.-A. Tisso. — SPb, 1787. — 286p.
9. Physical education student: A Textbook, Ed. VI Ilyimch. — M.: Gardariki, 1999.-448p.
About this article
Author:

Shayhetdinov R.G.



Year:

2011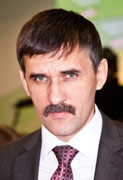 Editor-in-chief
Sergey Aleksandrovich
MIROSHNIKOV