Подача статей





Trushnikov D.Yu.
PROJECTING OF PEDAGOGICAL SYSTEM AT UNIVERSITY COMPLEX ON THE BASE OF CLUSTER APPROACH
The author reveals the essence of the cluster approach in the design of educational systems. For the first time in the scientific use the notion "naturnost" (modification of the concept of "visibility"). Summarizes the results of years of research in the field of vocational education of engineers.
Key words:
claster approach, innovative educational system, an educational system, a university complex.
References:
1. System aspects of quality management education in high school (for example, Tyumen State Oil and Gas University) / D. Trushnikov "Izv. Oil and gas. — 2006. — 5. — S. 118-125.
2. Designing educational systems: the cluster approach / D. Trushnikov / / Higher education today. — 2009. — 11
3. Technical college as an educational cluster region (in Mongolian) / D. Trushnikov, S. Davaatseren / / Erdem shinzhilgeeny buteeliyn emhetgel. Mongol ulsyn shinzhleh uhaan, tehnologiyn their surguul. Ulaanbaatar hot, 2009, he. 4 / 106. 200 pp. P.185-187
4. Trushnikov D.Y. Designing educational system in the structure of the university complex on the basis of the cluster approach: Monograph / D. Trushnikov. — Tyumen: Oil and Gas University, 2010. — 336.
About this article
Author:

Trushnikov D.Yu.



Year:

2011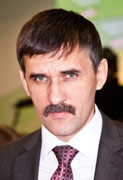 Editor-in-chief
Sergey Aleksandrovich
MIROSHNIKOV