Подача статей





Pradchuk O.I.
PEDAGOGICAL ASPECTS OF SOCIAL ADAPTATION OF DEVIANT TEENAGERS
In article it is told about social adaptation teenagers. This problem even more often excites teachers, parents, psychologists as for last decade growth of the violent acts interfaced to cruelty, is marked by aggression. Factors, in particular such as a family, mass-media, reference groups, and also the forms of rejecting behaviour caused by age features of teenage age are considered. The pedagogical aspects influencing social adaptation of teenagers are allocated.
Key words:
deviating behaviour, teenage age, aggression, uneasiness of teenagers, social adaptation, self-estimation level, pedagogical work.
References:
1. Anfalova I.Y. "Features and contradictions of social adaptation of teenagers deviant behaviour: the sociological analysis", 2007.
2. Belkin, A.S.diagnostics pedagogika,started children. — Sverdlovsk: ПИ. — 1979. — 107.
3. Breslav G.M.Emotsionalnye of feature of formation of the person in the childhood: Norm and deviations. — М: Pedagogika, 1990. — 216 with.
4.Kovalev A.G.psychology of the person. — М, 1970. — With. 133-134.
5. Kovalev V.V. Supervaluable formations and their role in psychopathology of children's age//Zhurn of psychology, 1974, t. 74, №10, with. 1519—1525.
6. Krutetsky, V.A.Psihologija of the teenager. — М, 1965. — With. 76-78.
7. Petrovsky, А.В., Yaroshevsky, M.G.Osnovy of theoretical psychology. — М: Pedagogics, 1998. — 415 with.
8. The psychologist in a preschool institution: Methodical recommendations to practical activity / Under the editorship of T.V.Lavrentevoj. — М: new school, 1996. — С.144.
9.Rean, A.A.aggression in structure of command of the excitable and demonstrative person//Ananevsky readings. — 1997. — №2. — С.14.
10.Sevenyk, L. M.Psihologicheskie features of aggressive behaviour of teenagers and a condition of its correction. М — 1996. — With. 148
About this article
Author:

Pradchuk O.I.



Year:

2011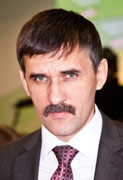 Editor-in-chief
Sergey Aleksandrovich
MIROSHNIKOV