Подача статей





Mokritskaya Е.А.
"MASTERING" OF ETHICAL KNOWLEDGE AT UNIVERSITY EDUCATION
This article considers some principles of students ethical knowledge mastering during the process of University education in the light of modern globalization. Those principles are revealed in the concept introduced by the author — "mastering" of ethical knowledge. The author points out that ethical knowledge mastering can be carried out not only during the "Ethics" course, but also at some other disciplines, including the "Foreign language".
Key words:
mastering, ethical knowledge, ethics in a century of globalization, moral values, ethical categories, dignity, a moral choice.
References:
1. Kessidi H.F. Socrat. — SPb.: Aleteiya, 2001. — 352p.
2. Zelenkova I.L. Principles of ethics. — Mn.: TetraSystems, 1990. — 496p.
3. Zdravomyslov A.G., Yadov V.A. Attitude to work and valuable orientations of the person //Sociology in the USSR. — volume 2. — М: Misl, 1996.– P.187-207.
4. Kiryakova A.V. Theory of the person orientation in the world of values. Monography. — Orenburg, 1996.-188p.
5. Skripnik A.P. Moral evil in the history of ethic and culture. — M: Politizdat, 1992. — 351p.
6. Adler U.P. Higher education — the higher quality/Scientific research М, 2008. — P.250
7. Hvostov V.M. History essays of ethical doctrines: Course of lectures. М: KomKniga, 2006. — 288p.
About this article
Author:

Mokritskaya E.A.



Year:

2011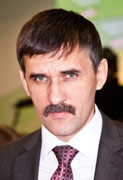 Editor-in-chief
Sergey Aleksandrovich
MIROSHNIKOV