Подача статей





Kolobova L.V.
SOME ASPECTS OF POLYCULTURAL EDUCATION
Aspects of polycultural education are considered in article: a humanisation and education globalisation, culturological aspect and ethnosocial aspect. The polyculturological approach in education is analyzed.
Key words:
polycultural education, a school education humanisation, culturological aspect, ethnosocial aspect.
References:
1. Vyzhletsov G.P. Aksiologija of culture. SPb., 2003. — 148 p.
2. Danilevsky Н.Я. Russia and Europe. SPb., 2003. — 574 p.
3. Makaev V.V, Malkova Z.A., Suprunova L.A. Polycultural education — an actual problem of modern school.//Pedagogics. 1999. №4. — С.З-10.
4. Polycultural education in modern Russia: problems and prospects: Materials of the All-Russia scientific conference. On September, 16-18th, 1997. — Pyatigorsk, 1997. — 207 p.
5. Crystal D. Cultural and Intercultural Communication Competence-Current Approaches and Directions for Future Research. — 2005. — Vol.13. 302 p.
About this article
Author:

Kolobova L.V.



Year:

2011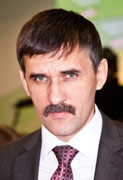 Editor-in-chief
Sergey Aleksandrovich
MIROSHNIKOV