Подача статей





Grigorieva O.S., Makarova T.P., Petrovicheva E.A.
INNOVATIONAL LABORATORY PRACTICE OF GENERAL CHEMICAL DISCIPLINES IN A FORM OF MICHROCHEMICAL EXPERIMENT
The article is devoted to scientific developments in the introduction of micro-chemical equipment for laboratory studies on obschehimicheskim disciplines at the university. The technique of setting microscience, stages of pedagogical research and the main results of testing of an innovative workshop.
Key words:
microscience, laboratory classes, obschehimicheskie discipline, improving the quality of education.
References:
1. Vivyursky VJ The technique of chemical experiment at school / / The first of September. — 2003. — № 28. — S. 4-10.
2. Grigorieva O. Implementation of micro-chemical experiment on laboratory studies at the university as an opportunity to improve the quality of education obschehimicheskogo / / Memoirs Almetyevsky Educat. Petroleum Inst. — 2010. — T. VII. — S. 33-35.
3. Microscience. Collection of laboratory work. Ed. Dyakonov GS, Pokrovsky AN — Kazan: Fatherland. — 2007. — 193 sec.
4. UNESCO: [site]. URL: http://www.unesco.org/science/. (date accessed: 20.05.2010).
5. Grigorieva O. Laboratory workshop using microchemical equipment for "Chemistry" for full-time students of all specialties. — Almetyevsk: Almetyevsk State Petroleum Institute. — 2010. — S. 50-53.
About this article
Authors:

Grigoryeva O.S., Makarova T.P., Petrovicheva E.A.



Year:

2011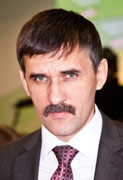 Editor-in-chief
Sergey Aleksandrovich
MIROSHNIKOV