Подача статей





Borovikova L.V.
INNOVATIONS IN EDUCATION TROUGH INTEGRATION OF ONTOLOGICAL AND AXIOLOGICAL APPROACHES
The article deals with the problem of post-modern philosophy's influence over contemporary education. This problem arises from historical changeability, plurality of systems and phenomena, which are rocking the cornerstones of humanity. We can outline the innovative trends in education, driven by the integration of ontological and axiological approaches. The quality of such education ensures humanitarian values to be an essential part of a person.
Key words:
innovation, modernization, ontology, axiology, values, being, education, understanding, existence, spirituality, co-being.
References:
1. Bibler V. Outcomes and intentions. Voprosy Psychologii. 1993. 5, pages 75-93.
2. Universal encyclopedia: 20th century philosophy. — Мosсow, 2002.
3. Volkov U., Polikarpov V. Man: encyclopedic dictionary. Мosсow,1999.
4. Gorshkova V. Basic ideas of philosophical and pedagogical research of education of adults. Article for scientific conference. St-Petersburg, 2001.
5. Didier Julia. Dictionnaire de la philosophie. Мoscow, 2000.
6. Kolesnikova I. The basis for the educator's technological culture. — St-Petersburg. 2003.
7. Short philosophical dictionary. — Мoscow, 1997.
8. Slobodshikov B., Isaev E. Psychological anthropology. Human psychology: introduction to subjective psychology. — Moscow, 1995.
9. Subetto A. Ethics of pedagogical innovations. — Мoscow, 2004.
10. Haidegger, M. Letter on 'Humanism'. The problem of human in West philosophy. — Мosсow, 1988.
11. Yatsenko N. Explanatory dictionary of social science terms. St-Petersburg, 1999.
About this article
Author:

Borovikova L.V.



Year:

2011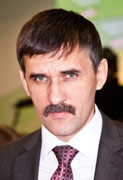 Editor-in-chief
Sergey Aleksandrovich
MIROSHNIKOV