Подача статей





Andreeva T.V., Ermakova Zh.A.
CHAINS FORMING OF CREATION OF PRODUCT COST IN THE FOOD INDUSTRY
The scheme of chains of cost forming in baking, confectionary and macaroni branches is formed in the frames of peculiarities research of added cost forming and distribution. In particular the authors determine the structure and position of different participants in the chain, reveal key management links in each of chains, establish general reserves of growth of added cost and food enterprises competitiveness and supplement the chains classification of cost formation.
Key words:
chain of the product cost formation, added cost, chains classification of cost formation, food industry.
References:
1. Avdasheva S.B. Modernization of the Russian enterprises in chains of creation of cost (on an example of the trumpet and furniture industry of Russia) / S.B.Avdasheva, I.A.Budanov, V.V.Golikov, A.A.Jakovlev // Economic magazine VSHE. — 2005. — №3. — p. 361-377.
2. Gereffi, G. The Organization of Buyer-Driven Global Commodity Chains: How U.S. Retailers Shape Overseas Production Networks // Commodity Chains and Global Capitalism / G. Gereffi, M. Korzeniewicz (eds.) L.: Praeger, 1994.
3. Kaplinsky, R. Handbook for Value Chain Research / R. Kaplinsky, M. Morris. IDS, 2003.
4. Kaplinsky,R. The dissemination of positive influence of globalization. What conclusions can be made from the analysis of the cost collection chain? / R. Kaplinsky. — translated from English.: Preprint.WP5/2002/03. — Moscow: GU VSHE, 2002. — 68 p.
5. Molodykh,V.V. The work of baking enterprises under the conditions of instability of credit and other organizations / V. V. Molodykh //The Bread baking of Russia. — 2009. — №1. — p. 7-9.
6. Porter, M. Competitive advantage: How to achieve good result and provide its stability / M. Porter. — 2nd edition., translated from English — Moscow: Alpina Business Books, 2006. — 715 p. — ISBN 5-9614-0398-X
About this article
Authors:

Andreeva T.V., Ermakova Zh.A.



Year:

2011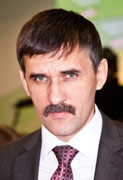 Editor-in-chief
Sergey Aleksandrovich
MIROSHNIKOV