Подача статей





Sosolopova K.A.
LAWS OF THE EMOTIVE CATEGORY IN THE TEXTS OF INTERNET BLOGS
This article presents an analysis of emotive category patterns representation in the Internet blogs. The author reveals the features of actualization for the above designated categories at the three language levels: morphological, lexical and syntactic, determines the temporal relatedness of emotive tools used in the texts of Internet blogs.
Key words:
emotiveness; Internet blog, morphological, lexical, syntactic means of expression of emotiveness; temporal relatedness.
References:
1. Bezrukova, A.V. Emotional adjectival and substantive dual sentences in contemporary English: Master's dissertation inphilology / A.V. Bezrukova. — Leningrad: LSPU, 1981 — P. 180.
2. Bolotov, V.I. Emotionality of the text in the aspect of verbal and non-verbal variability (The fundamentals of emotional text stylistics) / V.I. Bolotov. -Tashkent: Fan, 1981. — P. 116
3. Wierzbicka, A. Emotional Universals and Language Design / A. Wierzbicka. -M.: Russia culture languages, 1999. — P.654
4. Gak, V.G.The evolution of the ways of speech nomination / V.G. Gak // Questions of linguistics. — M.: Science, 1985, №4 — P. 28-42
5. Gelvis, V.I. Emotive aspect of speech: Psycholinguistic interpretation of the speech influence / V.I. Gelvis. — Yaroslvl: YSPU, 1990. — P. 81
6. Zaliznyak, A.A. Functional semantics of the predicates describing the inner state: Master's dissertation in philology / A.A. Zaliznyak. — M., 1985. — P. 24
7. Malinovitch, Y. M. Emotional and expressive elements of the syntax of modern German / Y.M. Maliovitch. — Irkutsk: ISPUFL, 1990. — P. 429
8. Myagkova, E.Y. The cognitive theory of emotions and study of vocabulary emotionality: Doctoral thesis in philology / E.Y. Myagkova. — M.: University of linguistics of Academy of sciences of the USSR, 1991. —P. 187
9. Piotrovskaya, L.A. Emotional utterances as the object of linguistic study / L.A. Piotrovskaya. — Saint-Petersburg, SSU, 1994. — P. 146
10. Filimonova, O.E. The category of emotiveness in the English text: cognitive and communicative aspects: Doctoral thesis in philology / O.E. Filimonova. — Saint-Petersburg, 2001. — P. 382
11. Shakhovsky, V.I. Categorization of emotions in lexico-semantic system of the language / V.I. Shakhovsky. — M.: URSS., 2008. — P. 208
About this article
Author:

Sosolopova K.A.



Year:

2010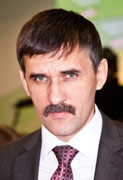 Editor-in-chief
Sergey Aleksandrovich
MIROSHNIKOV