Подача статей





Galinskaya T.N.
PRONOUNS FORMAL "YOU" AND INFORMAL YOU IN IDEOLEXICAL VOCABULARY OF THE VIRTUAL LANGUAGE OF A PERSONALITY
The article investigates the mechanism of constructing the virtual linguistic identity within phatic interaction at the level of vocabulary. In studying the features of personal pronouns in the text of a language personality behind the mask of the two virtual characters, the author reveals the similarities of their verbal behavior.
Key words:
virtual linguistic identity, fatic conversation, mask, verbal behavior, ideolexical vocabulary, personal pronouns.
References:
1. Apresjan, Ju. D. Deixis in Vocabulary and Grammar and Naпve Picture of the World // Apresjan Ju. D. Integral'noe opisanie jazyka i sistemnaja leksikografija. Izbrannye trudy. T. II. — M.: Jazyki russkoj kul'tury, 1995. — S. 644–645.
2. Belousov, K. I. Politics and Image of the World: Vladimir Putin / K. I. Belousov, N. L. Zeljanskaja // Politicheskij marketing. — 2008. — №10. — S. 63-80.
3. Vinogradov, V. V. Lexicology and Lexicography. Selected Works / V. V. Vinogradov. — M.: Nauka, 1977. — 288 s.
4. Karaulov, Ju. N. The Russian Language and the Language Personality / Ju. N. Karaulov. — M.: Prosveshchenie, 1987. — 264 s.
5. Malinovskij, B. The Scientific Theory of Culture / B. Malinovskij. — M.: OGI, 1999. — 208 s.
6. Os'muhina, O. Ju. The Mask / O. Ju. Os'muhina // Znanie. Ponimanie. Umenie. — 2007. — №2. — S. 226-228.
7. Paducheva, E. V. The Utterance and Its Relation to Reality / E. V. Paducheva.? M.: Editorial URSS, 2002.? 288 s.
8. The Semantic Dictionary of the Russian Language / pod. red. N.Ju. Shvedovoj. — T.1. — M., 2000.
9. Formanovskaja, N. I. The Speech Communication: Communicative and Pragmatic Approach / N. I. Formanovskaja. — M.: Rus. jaz., 2002. — 216 s.
10. Shvedova, N. Ju. The Pronoun and the Meaning. The Class of the Russian Pronouns and Meanings They Express / N. Ju. Shvedova. — M.: Azbukovnik, 1998. — 176 s.
About this article
Author:

Galinskaya T.N.



Year:

2010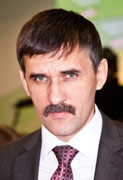 Editor-in-chief
Sergey Aleksandrovich
MIROSHNIKOV