Подача статей





Mikhailova E.V.
FRAME METHOD OF THE ENGLISH VERBS OF INTERACTION DESCRIPTION
This article addresses studying semantic conception of the English verbs of interaction in the category of frames. In this work the author makes an attempt to distinguish general groups of verbs of interaction and to reveal the semantics of some polypredicative constructions using frame method of description.
Key words:
interaction, semantic groups, frame method, semantic metalanguage, frame.
References:
1. Savickij, V. M. English phraseology: problems of modeling. — Samara: Izdatel'stvo "Samarskij universitet", 1993. — 171 s.
2. Savickij, V. M., Abramov, V. E. Action verbs and their derivatives: linguistic cognitive approach. — Samara: Izdatel'stvo Samarskogo nauchnogo centra RAN, 2005. — 168 s.
3. Longman Active Study Dictionary. Pearson Education. Edinburgh Gate. Harlow. Essex CM20 2JE. England. Addison Wesley Longman 1998. — 796с.
4. Macmillan English Dictionary, Michael Rundell, Gwineth Fox, Macmillan Publishers Ltd, 2002. — 1692с.
About this article
Author:

Mihaylova E.V.



Year:

2010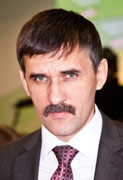 Editor-in-chief
Sergey Aleksandrovich
MIROSHNIKOV