Подача статей





Antonova A.V.
ACTUALIZATION OF A TARGET OF THE MANIPULATION "PHENOMENON OF WAITING FOR SOCIAL IDEAL REALIZATION" BY MEANS OF PROMISED SPEECH ACTS
This article is devoted to the studying of the speech acts of promise as means of actualization of a target of the manipulation "phenomenon of waiting for social ideal realization" in the text type of pre-election agitational speech, functioned in the limits of English-specking political discourse. The author suggests classification of researched speech acts from the point of view of their structure, due pearled effect and number of intentional components, presented on the surface level.
Key words:
target of the manipulation, intension of promise, speech act, intentional component, pearled effect.
References:
1. Antonova, A.V. Means of Promissive Intention Expression in the English Language / A.V. Antonova. — Orenburg: IPK GOU OGU, 2007. — 119s.
2. Maslov, E.S. The Expectation of Social Ideal Realization as the Phenomenon of Mass Consciousness: Avtoref. diss. … k. filos. n. — Kazan', 2003. — 24s.
3. Ostin, Dzh. How to Do Things with Words / Dzh. Ostin // Novoe v zarubezhnoj lingvistike. — M.: Progress, 1986. — Vyp. 17. — S. 22– 131.
About this article
Author:

Antonova A.V.



Year:

2010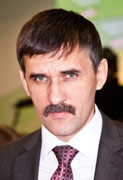 Editor-in-chief
Sergey Aleksandrovich
MIROSHNIKOV