Подача статей





Garmash M.I.
APPROACHES TO THE SOLUTION OF THE PROBLEM OF VISUAL POSITION FINDING IN ACCOMMODATION
One of the essential problems of the present appears to be the problem of locating in different situations. The solution of this problem under the conditions of the closed accommodation is, as a rule, complicated by many factors. The classical methods of solution of this problem are discussed in the present work, and the alternative method of the solution with the use of search algorithms by the model is also proposed.
Key words:
navigation in the accommodation, the method of search on the model, panoramic images, the geometry of catadioptric systems.
References:
1. Fernandes, J.C.A., Using Conical and Spherical Mirrors with Conventional Cameras for 360? Panorama Views in a Single Image / J.C.A. Fernandes, J.A.B.C. Neves // IEEE International Conference on Mechatronics. — Budapest, 2006.
2. Forsyth, D.A., Computer Vision: A Modern Approach / D.A Forsyth, J. Ponce. — NJ.: Prentice Hall, 2003.
3. Geyer, С., Short Course on Omnidirectional Vision / С. Geyer, T. Pajdla, K. Daniilidis // International Conference on Computer Vision. — Nice, 2003.
4. Russell, S., Artificial Intelligence — a modern approach, 2ed / S. Russell, P. Norvig. — NJ.: Prentice Hall, 2003.
5. Shapiro, L.G., Computer Vision / L.G. Shapiro, G.C. Stockman. — NJ.: Prentice Hall, 2001.
6. Ulrich, I., Appearance-Based Place Recognition for Topological Localization / I. Ulrich, I. Nourbakhsh // IEEE International Conference on Robotics and Automation. — San Francisco, 2000, — C. 1023–1029.
About this article
Author:

Garmash M.I.



Year:

2010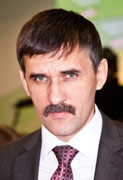 Editor-in-chief
Sergey Aleksandrovich
MIROSHNIKOV