Подача статей





Maslennikov D.Yu.
DEVELOPMENT OF METALLURGICAL COMPLEX IN SVERDLOVSK REGION AT MODERN CONDITIONS
The author of the article makes an analysis of conditions of metallurgical complex functioning in Sverdlovsk region at the modern period, shows the problems of the complex development and determines trends of its perfection on the base of reconstruction and innovations introduction.
Key words:
metallurgical complex, specialization of metallurgy in Sverdlovsk region, forming of metallurgical holdings, reconstruction, innovations, strategy of development.
References:
1. Lapayeva LV Formation and development of metallurgical complex in Russia. Orenburg, 2005.
2. The new "beacon" Ural metallurgy / / News of the construction industry. Urals and Siberia. 6 (61) -2007.
3. Resolution of the Government of Sverdlovsk region of 14.05.2003 № 294-PP "On the concept of development of the mining enterprises of mining and smelting complex in Sverdlovsk region in the period until 2015. "Collection of Laws Sverdlovsk region", 16.06.2003, № 5, Art. 438.
4. The development strategy of the metallurgical industry of Russia for the period till 2015 "/ / http://www.minprom.gov.ru/activity/metal/ strateg / 2 - 18 March 2009
5. F. VO The government formation and development of holdings / / MEiMO, 2008, № 6, pp. 136-147.
6. Shtansky V., Zhemchugova I. Managing potential metallurgical holdings / / The Economist, 2005, № 8, pp. 30-40.
7. Association of Employers' Union of enterprises of metallurgical complex in Sverdlovsk Region "(Electronic resource) [mode of access] http://www.metallurgy.ural.ru
About this article
Author:

Maslennikov D.Yu.



Year:

2010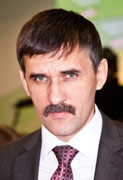 Editor-in-chief
Sergey Aleksandrovich
MIROSHNIKOV