Подача статей





Galeeva E.I.
WORKING OUT OF SCRIPTS OF INDUSTRIAL ENTERPRISES DEVELOPMENT WITH HELP OF SYNERGETIC MODEL
It is shown that synergetic model and integral informational-entropic potential — AC can be used at forecasting of technical-economic indexes of an industrial enterprise activity in conditions of vagueness which allows hastening the working out of scripts of its development and decreasing risks of subjective mistakes at making of management solutions.
Key words:
industrial enterprise, synergetic model, system activity (AC), forecasting of indexes, scripts of development.
References:
1. Saifullin, M.R., Demyanova, O.V., Davletshina, L.M. Developing a model of the republic of Tatarstan. – Kazan: Kazan State University, 2007. – 79 P.
2. Kundysheva, E.S. Mathematical modeling in economics. Textbook / Under Nauchn. Ed. prof. B.A. Suslakova: Publishing Trading Corporation "Dashkov and C°", 2004. – 352 P.
3. Lebedev, V.V. Mathematical modeling of socio-economic processes. – M.: Isograph, 1997. – 224 P.
4. Basovskii L.E. Forecasting and planning in market conditions. M.: INFRA-M, 2002. – 260 P.
5. Lykova, E.S. The method of predicting the socio-economic development of the region / Economic Bulletin of the Republic of Tatarstan. – 2007. – №3. – With. 63-66.
6. Galeeva, E.I. Synergetic approach to the management theory of socio-economic systems. – Kazan: "Taglimat" Institute of Economics, Management and Law, 2006. – 124 P.
7. Galeeva, E.I. Formation of the synergistic mechanism of socio-economic systems: theory and practice. – Kazan: Kazan State University, 2009. – 152 P.
8. Galeeva, E.I. Innovative technology in the management of socio-economic systems / / Problems of the modern economy. – 2008. – №3. – With. 68-72.
About this article
Author:

Galeeva E.I.



Year:

2010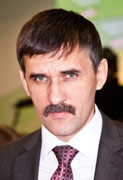 Editor-in-chief
Sergey Aleksandrovich
MIROSHNIKOV