Подача статей





Shmarin A.P.
DISTRIBUTION OF VAGUENESS OF ENVIRONMENT FACTORS AS A BASE OF STRATEGIC MANAGEMENT EFFECTIVENESS INCREASE
The concept of vagueness of environment and its factors is regarded in this article. The author analyzes some methodics of statistical appraisal of vagueness of environment factors and suggests his own method of appraisal. The method of optimization of strategic management of objects with the aid of group of factors at the degree of their vagueness is regarded on the base of existing laws of factors distribution.
Key words:
vagueness of environment factors, environment, effectiveness of strategic management, adaptive strategy.
References:
1. Un G.B., Тal G.K., Grigoryev V.V. Crisis management dictionary. M.: Delo, – 2003. – 448 p.
2. Tereshchenko V.M. Marketing – therapy. SPb.: Petersburg, – 2004. – 315 p.
3. Zub A. T. Strategic management: Theory and practice: Tutorial for Universities. – M.: Aspect Press, – 2002. – 415 p.
4. Parakhina V. N., Vasilyev V. U. Management theory/under the editorship of Parakhina. – М.: "Finances and statistics", – 2007. – 608 p.
5. Dolyatovsky V.А., Zolotarev V.S., Gamalei Ya.V., Ivahnenko А.V. Аadaptive management by economic objects on terms of incomplete definiteness. Мonography – Rostov-na-Dony: RGEU, 2005. – 257 p.
6. Sterligova А.N. Reserve of wide nomenclature management: With what should we begin?// Loginfo. – №12. – 2003. – p.50-55
7. Eshby U. R. Introduction of cybernetics //translated from English – М.: "Librocom ", – 2009. – 432 p.
About this article
Author:

Shmarin A.P.



Year:

2010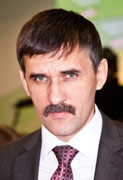 Editor-in-chief
Sergey Aleksandrovich
MIROSHNIKOV