Подача статей





Egorychev S.A.
GENERAL TENDENCIES AND MECHANISMS OF POSTINDUSTRIAL ECONOMIC DEVELOPMENT
This article is devoted to the studying of general tendencies and mechanisms of postindustrial economic development. Terminological and theoretical peculiarities of determination of postindustrial stage of economic development are presented here. The author formulates principals of functioning and development of network economy. Also he describes factors influenced on economic development in conditions of postindustrial society.
Key words:
development, network economy, postindustrial, informational society, principals, mechanism, factor.
References:
1. Bugorsky, VN Networked Economy: Tutorial / VN Bugorsky. - Moscow: Finances and Statistics, 2007. - 256 pp.
2. Demin, AI Information theory of economy: the macro model. Acad. 2-e, stereotyped / AI Demin. - M.: KomKniga, 2007. - 352 pp.
3. The concept of information society in Russia [electronic resource] / Access Regime: http://live.among.ru/?p=2811
4. Korabeynikov, IN Socio-economic prerequisites for effective implementation of information technologies at the regional level / IN Korabeynikov, AN Kirin. - Ekaterinburg: Institute of Economics, UB RAS, 2009. - 196 pp.
5. Korabeynikov, IN Theoretical basis of some features of post-industrial economy / IN Korabeynikov, OA Korabeynikova / / Journal of Economic Theory. -2009. - № 3. - S. 222-225
6. Lazarev, IA The new information economy and network mechanisms of development / IA Lazarev, GS Hija, KI Lazarev. - M.: Publishing and Trading Corporation "Scientifically K, 2006. - 240 pp.
7. Lapayeva, MG Office of the socio-economic development of the region under conditions of the network economy: monograph [Text] / MG Lapayeva, IN Korabeynikov, EN Makeyev. - Orenburg: PKI SEI OSU, 2009. - 268 pp.
8. Strelets, IA Network economics: a textbook / IA Sagittarius. - M.: Penguin Books, 2006. - 208 pp.
About this article
Author:

Egorychev S.A.



Year:

2010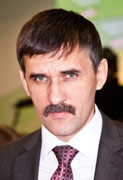 Editor-in-chief
Sergey Aleksandrovich
MIROSHNIKOV