Подача статей





Dolbina S.A.
NECESSITY OF MODERNIZATION, RENOVATION AND TECHNICAL REARMAMENT OF METALLURGICAL COMPLEX ENTERPRISES
In this article the author regards the questions of modernization, renovation and technical rearmament of metallurgical complex enterprises, also shows key problems and factors embarrassed development of the branch and gives characteristics of stages of variants of the equipment renovation depending on production strategy of an enterprise.
Key words:
metallurgical complex, general industrial-production funds, renovation of equipment.
References:
1. Aaker DA Strategic Market Management ed. from English. Ed. Kapturelskogo JN Petersburg.: Peter, 2002.
2. Lapayeva LV The development of metallurgical industry of Russia. Monograph. Orenburg, OSU, 2005.
3. Novikov NV, Fomina L. Problems of competitiveness of metallurgical enterprises / Economist. - 2008. - № 5. - S. 61-67.
4. Sedykh AM Ferrous metallurgy in the mirror of economic analysis. Senior Reserve - modernization of production / Metals of Eurasia. - 2008. - № 2. S. 6-8.
5. Steel at the turn of centuries (coll. authors Ed scientific. Ed. YS Karabanova). Moscow: MISA, 2001.
6. Documents tape PRIME (Electronic resource) [mode of access] http://www.garant.ru/prime.
About this article
Author:

Dolbina S.A.



Year:

2010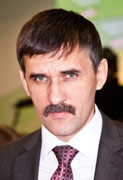 Editor-in-chief
Sergey Aleksandrovich
MIROSHNIKOV