Подача статей





Phisun K.V.
СOMPOSITION AND DISTRIBUTION OF AVIFAUNA OF ORENBURG
The article presents analysis of Orenburg avifauna in nesting and winter periods, points out tendency in dynamic of their population. The author discovers main locations of their habitat within the city limit during the observed period. The article contains characteristic of Orenburg avifauna.
Key words:
city avifauna; Orenburg; nesting period; winter period; avifauna distribution upon habitats.
References:
1. Balykov O.F. Green plantings of Orenburg — yesterday, today, tomorrow. Orenburg: the Orenburg book publishing house, 2002. — 400 p.
2. Gavliuk E.V., Kornev S.V. Birds of a city of Orenburg and adjacent territories//Birds of cities of the Average Volga region and Preduralja. Kazan: Master Lajn, 2001. — P. 120–132.
3. Orenburg — 260. — Orenburg: the Printing House "Dimur", 2003. — 400 p.
4. Ravkin J.S. To a technique of the account of birds of wood landscapes//the Nature of the centres Illness from the tick on Altai. — Novosibirsk, 1967. — P. 66-75.
5. Ravkin J.S., Dobrohotov B.P. To a technique of the account of birds of wood landscapes during extranested time//the Organization and methods of the account of birds and harmful rodents. — М: publishing house AN of the USSR, 1963. — P. 130–136.
About this article
Author:

Fisun K.V.



Year:

2010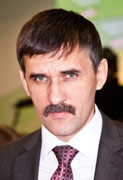 Editor-in-chief
Sergey Aleksandrovich
MIROSHNIKOV