Подача статей





Stepanova M.A.
STUDY OF PHOTOPERIODIC RESPONSES OF PLANTS GROWING IN BUZULUK AND BUZULUK DISTRICT
Central moment of development of plant organisms is transfer from vegetative growth to reproductive development (with respect to flowering plants — to flowering). The basic factor of environment which impacts transfer of plants to reproduction — flowering, is duration of daylight illumination. This dependency of transition to the flowering phase from day length is called photoperiodism.
Key words:
photoperiodism, day length, reproductive development, dormant state.
References:
1. Alyoshin E.P.Ponomarev A.A.Physiology of plants. — M.:Kolos, 1979 — p. 263.
2. Artamonov V. I. Entertaining physiology of plants. — M.: Agropromizdat, 1991 — р. 336.
3. Chibilew A.A. Natural a heritage of the Orenburg region. — Orenburg: the Orenburg bookpublishing house, 1996 — p. 384.
4. Chibilew A.A. Nature of the Orenburg region (the Part of I Fiziko — geographical and historiko — geographical sketch). The Orenburg branch of Russian geographical society. Orenburg, 1995 — р. 457.
5. Yakushkin N.I. Physiology of plants. — M.: Education, 1980 — р. 303.
About this article
Author:

Stepanova M.A.



Year:

2010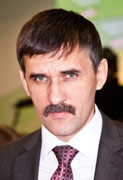 Editor-in-chief
Sergey Aleksandrovich
MIROSHNIKOV