Подача статей





Ukrainchenko D.A., Zhadanov V.I., Lisov S.V.
EXPERIMENTAL AND THEORETICAL STUDIES OF GLUED BOARD PANELS WITH U-SHAPE SECTION WORKING IN TRANSVERSE BENDING
We provide the method and results of experimental and theoretical studies of glued board panels with U-shape section working in transverse bending and in different position of sheathing towards the room. The report determines the reduction coefficients for glued board sheathing which can be used in engineer calculation method. The calculation of developed structures was done in LIRA and SCAD programs with comparison of theoretical and experimental data.
Key words:
panel, timber, rib, sheathing, transverse bending, experiment, tests, soundness, tensions, deformations, reduction coefficient.
References:
1. Russian Federation Patent on model №36404. IPC E04B 1/10. Heated wall of vertical cutting / Zhadanov V.I., Dmitriev P.A., Dmitriev P.P., Sagantaev D.V. // Publ. 10.03.2004. bull.7 – 6p.
2. Building Regulations II-25-80. Wooden constructions. Designing Regulations. – M.: Stroyizdat, 1983 – 31 p.
3. Recommendations of wooden constructions test / Kucherenko's CRI BC. – M.: Stroyizdat, 1976. – 28 p.
4. Rensky A.B., Baranov D.S., Kochetov A.I. Strain-gauge manual of building constructions and materials / Research Institute of concrete and iron. – M.; Gosstroyizdat, 1971. – 313p.
About this article
Authors:

Ukrainchenko D.A., Zhadanov V.I., Lisov S.V.



Year:

2010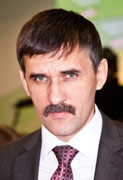 Editor-in-chief
Sergey Aleksandrovich
MIROSHNIKOV