Подача статей





Kudashova Yu.V.
INFORMATIONAL-COMMUNICATIVE TECHNOLOGIES IN REGIONAL POLITICAL SPHERE
The ways of effectiveness increase of political management connected with development of new political technologies are presented in this article. Modern technologies are regarded as a base of democratic processes development. Technology of multi-party dialogue is a mean of effective political decisions making.
Key words:
political technologies, political management, positioning, political party, actor, multi-party dialogue.
References:
1. Grinberg T.E.Рolitical Technologis: PR and Advertising: the Manual for students of high schools / T.E.Grinberg. – М: Aspect the Press, 2006. – 317c.
2. Nedjak I.L.Political Marketing. Bases theory./I.L.Nedjak. – М: Publishing house "All World", 2008. – 352c.
3. The Estimation of Efficiency of a Regional Policy of the European Union: Theoretical approaches//Modernization of Economy and Cultivation of Institutes /. E.G.Jasin. – M.: GU HES, 2005. – 436с.
4. Political Communications: the Manual for students of high schools / Petrunin J.J., etc.; under the editorship of A.I.Solovyov. – М; Aspect the Press, 2004.-332s.
5. Pocheptsov G.G.Imagiology/ G.Pocheptsov. – 6 изд.,. – М: the Smart Beech, 2009. – 575с.
6. Pushkareva G.V.Political Management in System of Administrative Relations of a Modern Society//the Bulletin of the Moscow university, 21. Management and Society, 2005, №3. – С.82-91.
7. SolovyovA.I. Political Sciences: Political Technologies: the Textbook for students of high schools. – М; Aspect the Press, 2001. – 559с.
8. Traut of J., Rice E.Positioning: Fight for Minds. The anniversary edition / the Lane about English SPb: Peter, 2008. – 336с.
9. Chumikov A.N., Bocharov M.P. Public Relations: the textbook / A.N.Chumikov, M.P.Bocharov – 5ed.. – М: Publishing house "Delo" ANH, 2008. – 560с.
10. Sheshukova G.V.Ellection Process in the Orenburg region during the postreorganization period / Electoral Space of Modern Russia. A political science: the Year-book 2008 / the Russian association of a political science. A.I.Solovyov – М: the Russian political encyclopaedia, 2009. – With. 182-194.
About this article
Author:

Kudashova Yu.V.



Year:

2010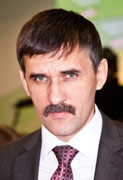 Editor-in-chief
Sergey Aleksandrovich
MIROSHNIKOV