Подача статей





Bugero N.V .
BIOLOGICAL PROPERTIES OF THE PROTOZOA BLASTOCYSTIS HOMINIS, ISOLATED FROM RESIDENTS OF ST. PETERSBURG TOPODEMES WITH DIFFERENT ECOLOGY
We study the intestinal microflora of people living in different climatic and ecological areas of the city of St. Petersburg. We found high levels of the protozoa Blastocystis hominis in persons living in the studied region. Detection of persistent properties in isolated strains of the protozoa B. hominis revealed widespread blastocysts antilysozymic activity and the dependence of its performance from the isolation source.
Key words:
human intestinal microflora, St. Petersburg, biological properties of protozoa.
References:
1.Vorobyev А.А., Nesvizhsky Y.V., Lipnitsky Е.М. et al. Study of parietal intestine microflora of humans. Microbiol. Journal 2004, №1. — P.60-63.
2.Baranov А.А., Belova S.V. et al. Disbacteriosis and disbiosis of intestine / Baranov А.А. // Pediatrics. — 2006. — №9. — P.73-77.
3. Chaika N.А. Вlastocystis and AIDS /N.А.Chaika // Medical parasitology. — 1992. — №4. — P.48-51.
4.Bondarenko V.М., Gracheva N.М., Маtsulevich Т.V. Disbacterioses of intestine in adults. М.:, КМК — 2003 , 224 p.
5.Kuvaeva I.B., Ladodo K.S. Microecological and immune disorders in children. — М.: — 1991. — 135 p.
6.Ecology of human microorganisms. Edited by Bukharin О.V.Yekaterinburg.: Ural Center of Academic Services — 2006. — 479 p.
7. Bukharin О.V. Biomedical aspects bacteria persistence / О.V. Bukharin // Microbiol. Journal — 1994.Appendix. С.4-13.
8.Reinthaler F.F. et al. Вlastocystis.hominis — intestinal parasit or commensal // Wien.Мed.Wochenschr. — 1988. — V15. — P. 545-552.
About this article
Author:

Bugero N.V.



Year:

2010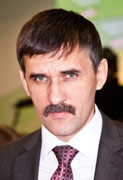 Editor-in-chief
Sergey Aleksandrovich
MIROSHNIKOV