Подача статей





Kashchenko E.G.
PECULIARITIES AND TENDENCIES OF RETAILING ENTERPRISES DEVELOPMENT IN RUSSIAN MARKET
In this article the author regards peculiarities and tendencies of retailing enterprises development in Russian market, and also he analyzes existing tendencies of trade development in Orenburg market with aim to reveal and to determine possibilities of functioning of local trade enterprises in conditions of crises and expansion of net trade companies.
Key words:
trade, retailing, trade enterprise, operator of retailing, size of trade, consumer, competitiveness, marketing.
References:
1. Vetrov, V. buyer prefers a mini-market / V. Winds. — Modern trade. — № 8. — 2007. C. 17.
2. Marchenko, VN Trends and prospects in retail chains in Russia / Marchenko, VN, Kashchenko EG — Formation of a market economy: theory and practice. Collection of scientific articles. Volume VIII / Ed. prof. MG Lapayeva. — Orenburg: PKI SEI OSU, 2008. — 203 pp.
3. Competitiveness retailers / TN Paramonov, IN Krasyuk. — M.: scale enterprises, 2008. — 120 pp. — ISBN 978-5-85971-911-2.
4. Trade in the Orenburg region: Stat. Sat / Regional office of the Federal State Statistics Service of the Orenburg region. — Orenburg, 2009. — 193 pp.
5. Tretyakov, OA Cooperation with regional manufacturers retail / OA Tretyakov. — Marketing in Russia and abroad. — № 3 (53). — 2006.
About this article
Author:

Kashchenko E.G.



Year:

2010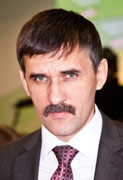 Editor-in-chief
Sergey Aleksandrovich
MIROSHNIKOV