Подача статей





Rassokha V.I.
SITUATION MANAGEMENT OF MOTOR TRANSPORT SYSTEMS (PART 2. SYNTHESIS OF MANAGEMENT SYSTEM)
The author suggests typical structure of motor transport system and its management, foreseeing three levels – administrative regulation, corporative and automatic management. Also she describes the scheme and succession of situation management and based on it conception which is primary for using in conditions of instability, high dynamics and abruptness of changes in logistics systems of different levels.
Key words:
motor transport system, logistics system, management system, situation management, synthesis
References:
1. Larin, О.N. Methodology for organization and functioning of region transport systems: monograph / О.N. Larin. – Chelyabinsk: YuUrGU Press, 2007. – 205 p.
2. Mesarovich, М. The theory of hierarchical multilevel systems / М. Mesarovich, D. Mako, I. Takakhara. – М.: Mir, 1973. – 344 p.
3. Larin, О.N. Theoretical and methodological fundamentals for development of transit potential of regional motor transportation systems (Chelyabinsk Region as a case study): published summary of the doctoral thesis in technical sciences: 05.22.01 / Larin, О.N. - Moscow, 2008. – 39 p.
4. Oleynik, А.V. Increase of service life of mechanical engineering products on the basis of situational management of processes to support their life cycle: published summary of the doctoral thesis in technical sciences: 05.13.06 / Oleynik, А.V. – М., 2006. – 36 p.
5. Pospelov, D.А. Situational management: the theory and practice / D.А.Pospelov. – М.: Nauka, 1986. – 288 p.
6. Pospelov, D.А. Thinking and automatic devices / D.А.Pospelov, V.N. Pushkin. – М.: Sovetskoye Radio, 1972. – 222 p.
7. Klykov, Yu.I. Situational management of the large systems / Yu.I. Klykov. – М.: Energiya, 1974. – 134 p.
8. Shabanov, А.V. Regional logistical systems of public transport: methodology of formation and mechanisms of management. – Rostov-on-Don: SKNTs VSh Press, 2001. – 206 p.
9. Logistics. Public passenger transport: the textbook for students of economic high schools / Mirotin L.B. (Editor). – М.: Examen, 2003. – 224 p.
10. Rassokha V.I. Situational management of motor transportation systems (Part 1. System efficiency of motor transport operation) // VESTNIK of Orenburg State University. – 2009. – №9. – P. 145-150.
About this article
Author:





Year:

2009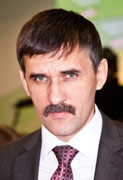 Editor-in-chief
Sergey Aleksandrovich
MIROSHNIKOV