Подача статей





Chercoziyanova T.V.
ONTOLOGICAL AND PHILOLOGICAL DEFINITIONS OF THE CONCEPT FATE IN THE CONTEXT OF INFORMATIONAL SYSTEMS SELF-ORGANIZATION
The paradigm of informational essence of a person is important enough at the modern philosophical anthropology. On the base of synergetic approach the tendency of subjective-informational determinant estrangement from personal perception and formation of unconscious psychological processes are regarded in this article. It is shown that the consciousness, determination and summarizing of these processes leads them into over-conscious, transcendental sphere and abstracts them by universal concept – code Fate.
Key words:
fate, systems self-organization, adaptation, memory, sphere context, informational structures
References:
1. Serdyukov Yu.M. Alternative to parascience. M.: Academia, 2005. 312 p.
2. Dubrovsky D.I. The problem of ideal. М.: Mysl, 1983. 342 p.
3. Kapra F. Secret ties. M.: ООО ID "Sofiya", 2004. 336 p.
4. Knyazeva E.N., Kurdyumov S.P. The rules of evolution and self-organization of complicated systems. М.: Nauka, 1994. 284 p.
5. Galimov E.M. The phenomenon of life: between balance and nonlinearity. Origin and principals of evolution. М.: Editorial URSS, 2001. 256 p.
6. Brushlinsky A.V. Psychology of the subject. М.: Institute of psychology of RAS; SPb: "Aleteiya", 2003. 272 p.
7. Lektorsky V.A. Subject, Object, Perception. M.: Science, 1980. 357 p.
8. Kapra F. Cobweb of life. М.: ООО ID "Sofiya", 2003. 336 p.
9. Teiyar de Sherden P. The phenomenon of a man. М.: Nauka , 1987. 240 p.
About this article
Author:

Cherkozyanova T.V.



Year:

2009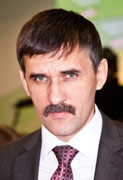 Editor-in-chief
Sergey Aleksandrovich
MIROSHNIKOV