Подача статей





Suleimanov R.R., Nazyrova F.I., Gabbasova I.M.
CHANGES OF PHYSICAL-CHEMICAL PECULIARITIES OF TYPICAL CHERNOZEM IN CONDITIONS OF POLLUTIONS WITH OIL DEVELOPMENT WASTE WATER AND RECULTIVATION
The influence of pollutions with highly mineralized oil development water on physical-chemical structure of soil is studied in conditions of small-plot field experience on typical carbonate chernozem. It is shown that pollution leads to salinization and alkalinization accompanied with violation of some soil complex characteristics. Recultivated measures, included introduction of reclamation elements, promoted active resalting and re-alkalinization even in one year after pollution, and in three years general characteristics and regimes of soil bring nearer to such of clean typical chernozem.
About this article
Authors:

Suleymanov R.R., Nazyrova F.I., Gabbasova I.M.



Year:

2008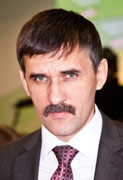 Editor-in-chief
Sergey Aleksandrovich
MIROSHNIKOV