Подача статей





Ermolaeva A.А., Setko A.G., Zinullin Y.Z.
ASSESSMENT OF INDUSTRIAL ORGANIZATIONS FOR THE ENVIRONMENT AND PUBLIC HEALTH [№ 12 ' 2013]
In this paper we consider the problem of environmental pollution poultry industry abroad sanitary protection zone, which by their function is a protective barrier that provides a sufficient level of safety. To solve the problem, we used a complex of modern hygiene, laboratory and instrumental and statistical methods. The paper used data from the regional system of social-hygienic and environmental monitoring. The study provided data characterizing the poultry industry as a source of environmental pollution and health impacts outside the SPZ of the enterprise, which is a violation of sanitary– epidemiological laws.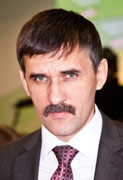 Editor-in-chief
Sergey Aleksandrovich
MIROSHNIKOV