Подача статей





Zhirnova T.V.
THE BASIC STAGES OF REFORMING OF POWER ENTERPRISE AS A MONITORING SUBJECT [№ 8 ' 2007]
The article considers the main goals, strategy and stages of RF power complex reforming, including Orenburg Region power industry. Power enterprises as a monitoring subject have been studied by the author from the point of view of internal business processes and activity spheres. The issues of formation of monitoring system at power enterprises are touched upon.
Zhirnova N.S., Lyubovtseva L.A., Gurianova E.A., Mulendeev S.V.
LUMINESCENT-HISTOCHEMICAL STUDYING OF HISTAMINE AT THE STRUCTURES OF SKIN AFTER HYALURONIC ACID PREPARATION INTRODUCTION [№ 6 ' 2007]
Introduction of gel on the base of stabilized hyaluronic acid, used at cosmetology for correction of wrinkles and skin atrophic defects, causes qualitative and quantitative changes of eyelids skin. Under its influence essential changes of luminescent-histochemical characteristics and histamine providing of skin structure at the early terms after introduction disappearing at the end of tenth day happen. Gel injection stimulates increase of mast cells population, promotes ripening of heparin in them and increasing degranular forms lobe to the third day after introduction of hyaluronic acid. Received data is necessary to account at patience choice on contour plasty and at complications prevention at postinjection period.
Zhirnova T.V.
ECONOMIC ESSENCE OF MATERIAL AND ORGANIZATIONAL FACTORS OF PRODUCTION AT RESOURCE-PROVISION OF AN ENTERPRISE [№ 3 ' 2007]
The determination of material and organizational factors of production is given in this article. The author regards general methodological trends of appraisal of material factors of production. And also general principals of material factors appraisal are analyzed and classified here. The influence of environment conditions on choice of any trends and principals of appraisal is examined in this work.
Zhirnova T.V.
THE PROBLEM OF REGIONAL ECONOMIC MEASURINGS [№ 6 ' 2006]
The analysis of existing methods of appraisal of regional economic measurings spread in our country is given in this article and also its positive and negative sides. General problems connected with using of indexes system using with Russian methods, are regarded here. Generalized ratings of some regions of RF investment attraction are published.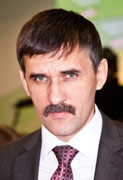 Editor-in-chief
Sergey Aleksandrovich
MIROSHNIKOV