Подача статей





Zelenina T.A.
EVALUATION OF THE STABILITY OF COMMERCIAL BANK TO MACROECONOMIC SHOCKS [№ 13 ' 2011]
In the article the results of analyzing of a сommercial bank stability to macroeconomic shocks on the basis of the binary probit-model are presented.
Zelenina T.A.
OPTIMIZATION OF LENDING AND INSURANCE PARAMETERS CONSIDERING THE INTERESTS OF ALL MEMBERS OF SYSTEM "LENDER — BORROWER — INSURER" [№ 5 ' 2011]
The article addresses the problem of multicriteria optimization in the choice of lending and insurance parameters, providing a compromise between the interests of lenders, borrowers and insurers.
Tulina L.M., Karpenko I.L., Barkhatova L.A., Zelenina L.V., Osiyan S.A., Frolov A.B.
HYGIENIC APPRAISAL OF FACTORS AND CONDITIONS, DETERMINED QUALITY OF DRINKING WATER [№ 5 (app.1) ' 2005]
This article is devoted to the important problem of modern hygiene, which is the appraisal of drinking water quality and its influence on population health. Hygiene and sanitary characteristic of water supply sources is given in this article, also comparison appraisal of drinking water quality after cleaning on water supply point and water quality, which goes to consumers, is conducted here too. The sources of drinking water pollution and priority pollutants, influenced on population health condition, are stated here.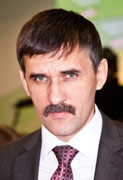 Editor-in-chief
Sergey Aleksandrovich
MIROSHNIKOV