Подача статей





Zaitseva I.V.
DEVELOPMENT OF PROFESSIONAL SUBJECT CHARACTER OF THE FUTURE ENGINEER IN CONDITIONS OF LINGUISTIC EDUCATION [№ 11 ' 2010]
This article discusses the pedagogical conditions for the development of professional subjectivity of the future engineer, distinguishes its essential characteristics and specific features. Particular attention is given to issues of language training as a factor for the development of professional subject character.
S.V. Antimonov, N.V. Zaitzeva
SPEAKING ON THE DEFINITION OF CRUSHING MATERIAL MASS IN AIR-PRODUCTIONAL LAYER OF CRUSHING MACHINE [№ 2 ' 2000]
It is suggested the approximate method of determination of grain and its crumbled products mass which makes the air-productional layer near the sieve of crushing machine which can be used for mathematical model identification of grain crushing process for mixed fodder.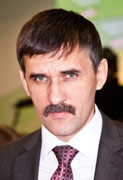 Editor-in-chief
Sergey Aleksandrovich
MIROSHNIKOV