Подача статей





Zaripova A.A.
FIRST STAGE OF CLONAL MICROREPRODUCTION OF PEONY DEVIATED WITH SIDE GEMMAS [№ 6 ' 2009]

Zaripova A.A., Akhmetova A.Sh.
REPRODUCTION IN CULTURE IN VITRO RHAPONTICUM CARTHAMOIDES (WILLD.) ILJIN [№ 6 ' 2009]

Zaripova F.F., Faizulin A.I., Yumagulova G.R.
HEAVY METALS CONTENT IN A LIVER OF LAKE FROG RANA RIDIBUNDA PALLAS, 1771 IN BASHKIR ZAURALIE [№ 6 ' 2009]

Shkundina F.B., Zaripova A.G., Yumaguzhin M.S., Gulamanova G.A.
STUDYING OF VARIETY OF ALGAE AND PLATINOPROCARYOTE PELOIDS (ON THE EXAMPLE OF HEALTH CENTRE "KARAGAI", BASHKORTOSTAN) [№ 6 ' 2009]

Zaripova F.F., Bayramgulova G.R., Yumagulova G.R., Yanturin S.I.
HELMINTHOFAUNA OF THE AMPHIBIAN SPECIES IN THE BASHKIR TRANS-URALS [№ 12 ' 2008]
It was found that 3 amphibian species (R. arvalis, R. temporaria, B. viridis) from Uchalinsky District, Bashkortostan, have 6 species of helminthes pertaining to the Class Cestoda – 1 species, Trematoda – 3 species, Nematoda – 2 species. The composition of helminthes directly depends on the host lifestyles: the semiaquatic groups have more diverse parasitofauna compared with the terrestrial groups.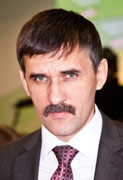 Editor-in-chief
Sergey Aleksandrovich
MIROSHNIKOV